Speaking
Inspirational Speaker Vancouver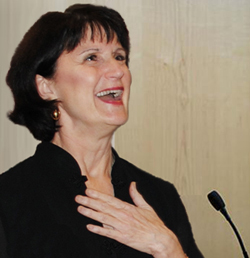 The self-actualization path is one I have been on for many years. I have always felt motivated to advance in my life. This is not particular to me; it is our nature to advance.
It is only through our conditioning that we come to believe we can never have more than we have had, or that we can redefine ourselves to match what we truly desire to be, do and have.
In my guest speaking seminars and workshops, I support the attendees to look at their part in their lives to-date, to know that they can choose again when they aren't experiencing positive results in their life, and to know that each has more control in his/her life than s/he may have known up until now.
As an Inspirational Speaker, some of my seminar and workshop topics are:
Self-Determination: "It Is In You To Do".
Choice: "Victim or Victor?"
Change: "Shaking Hands with the Unknown"
Personal Success: "As Individual as You Are"
Life Lessons: "Suiting Up To Show Up: Using Your Inner Power"
Ernest Holmes (Metaphysical philosopher, Writer and Spiritual Teacher) wrote: "There is a power for good in our lives, and we can use it."
This power is not only "in" our lives – it is our lives. It is the power we are looking for, and is who we are.
How would it feel if you could use this power, now, for greater good than you could have imagined?
What would it be like if you could help yourself, and others, to be free from the bondage of old lies accepted as true, up until now.
I would love the opportunity to connect with you, and your group, and share empowering Universal truths and reveal opportunities for a life they can happily jump out of bed to live!
Contact me to speak to, and/or lead a workshop for your group.
Contact Inspiration Speaker, Wendy Yacboski:
wendy.coachrev@gmail.com
(604) 831-7738