Wedding Ceremony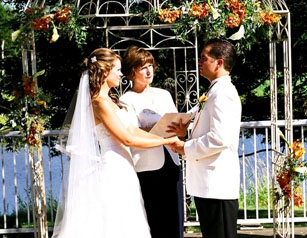 Your Wedding Ceremony ought to be as unique as your relationship. One size does not fit all – in shoes, clothing, housing, or in wedding ceremonies.
Your relationship with your fiancé is unique. To me this means that your wedding ceremony, speaking to your love for each other, and your desires within marriage together, are also unique to the two of you.
I offer you this uniqueness, a customized-to-fit-you wedding ceremony, that not only blesses this important step in your lives, but provides a lasting, joyful memory – for the two of you, and also for your family and friends.
Together we will create a specialized ceremony that will be a beautiful entry-point, as you move into your marriage for life.
I invite you to contact me any time to discuss your plans for the perfect Wedding Ceremony!:
(604) 831-7738
wendy.sacredceremonies@shaw.ca
Wedding Testimonials:
"…It was an amazing ceremony, thanks to you, and to this day many of our friends maintain that it's the best they've ever been to.  In fact, our friends Darrin and Dolores who married last fall said that our ceremony served as an inspiration for their own. It was equally a delight for us to have been married by you!" ~ Sean & Lea
"…We just loved working with you! The attention to detail and the extra care you took in regard to giving us the perfect ceremony was unsurpassed. We loved the extra rose ceremony you incorporated into our big ceremony and the "write your own vows" guide was so helpful. You have so much to offer; we highly recommend you!" ~ Marisa & Chris
"…Thanks so much Wendy!  =)  Everybody loved the ceremony so much and the personal touches you put in were so amazing.   The way you delivered every single line was so heart-felt and warm.   You made our ceremony truly unforgettable for us."~ Janice & Aguilar
"Thanks again for making our wedding so special." ~ Lillian & David
"…You were a gem. I could not imagine a nicer ceremony. The compliments are still coming in on this; all of Murry's kids were entranced, and my cousin Frank, said it was beautiful. The big, white bearded guy, Gary, also commented very positively, saying it was the nicest commitment ceremony he ever attended. Thank you again, for all that you did to make it a wonderful day!!"  ~ Connie & Murry